Bottled Water Delivery Cost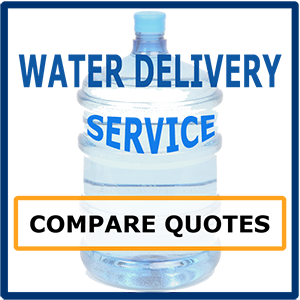 Great bottled water delivered for as little as . . .
How much does bottled water cost?
When it comes to arranging a bottled water delivery service for your business, cost is obviously going to be one of your primary concerns. There is a wide range of prices that you can pay for this type of water delivery service, with the largest discriminating factor obviously being the volume that you require. However, there are other factors that can play into cost differentials between your delivery options.
Average Price For 5-Gallon Water Bottles  – $6 – $9
The 5-gallon blue jug is the quintessential method for delivering bottled office water. The exact amount that a bottle will cost depends largely on how many bottles you need to be delivered to your office each month. Normally, the monthly delivery volume is what is used to assess the per-bottle cost. Expect to pay $6 on the low range, more common in very high volume delivery situations, or $9 on the high, more typical of the needs of a small business. Prices may of course land anywhere in the middle of that range, and these boundaries are estimates only – some lower and higher prices may be available in certain situations.
Deer Park, Nestle, Dasani, Sparkletts, Crystal Springs, Culligan, Fiji, Absopure, Crystal Springs, Aquafina, Evian, Ozark, and More

The Cost For Water Cooler and Water Filtration System Rental and Purchase Fees
If you're looking to set up a water cooler system in your office, you will likely be interested in tank rentals or purchases. When you rent a hot water tank or a cool water reservoir for your system instead of purchasing them, you avoid the costs of maintenance and replacement, with the upkeep instead being the responsibility of the rental company. However, if you purchase a tank system you will have a set cost, likely several hundred dollars per unit, that is a one-time cost only until the system needs replacement.
If you rent a system instead of purchasing, you will likely $9 and $15 per month depending on what type of system you are interested in. Systems with hot and cold options typically cost more than those which only offer cold and room temperature water. In most situations, a one-year contract will be required to obtain the best rental fees. Alternatively, water coolers can be purchased for as little as $80 to as much as $175 depending on the features and style you prefer.
Other Considerations for Water Delivery Prices
When you're considering the rates for bottled water delivery, you need to consider more than just the base price on the item in question. The types of contracts offered to suit your needs are an important consideration for ensuring you receive the service you want at the price you want.
In some cases, it will be advantageous to commit to a predetermined amount of water delivery per month. If you have a clear-cut idea of how much water you need on a regular basis, this can lower your cost and set a delivery schedule that is predictable. In other cases, though, you may need to order water on an on-demand basis. While this might cost slightly more, it gives you more flexibility to adapt to the up-to-the-minute needs of your business.